Described as "a remarkably mature young violinist with extraordinary stage presence", "emerging as if a highly burnished and glowing ruby", violinist Aroussiak Baltaian has gained an international attention through her extensive appearances as a prominent recitalist, soloist, chamber musician and recording artist.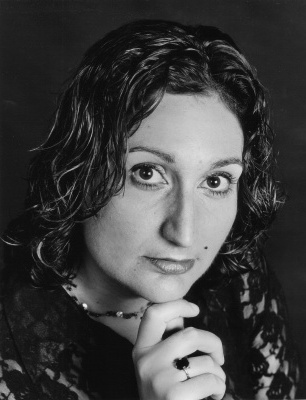 Aroussiak Baltaian is a First and Grand prize winner of numerous competitions including the 2002 Burbank Philharmonic Competition, the 1997 " MauriceWarshaw Prize" Competition in Great Britain, the 1993 "Beethoven Club" Young Artists Competition in Memphis (TN), the 1985 "Henrik Wieniawski" National Young Artists Competition in Bulgaria, the 1985 "Yaroslav Kotzian" International Violin Competition in the Czech Republic where she was also awarded the honorary citizenship of the city. Among her other honors include winning awards at the 1996 "Rudolfo Lipizer Prize" International Competition in Italy, 1991 and 1995 " Leopold Schopmaker" Mid-America Competition in Kansas City, and the 1990 "Aram Khachaturyan" International Competition in New York City. She is the 1993 National Winner at the MTNA Collegiate Competition in Spokane, WA.
As a soloist and recitalist, Ms. Baltaian has performed in major cities throughout the United States, Great Britain, Austria, Germany, Italy, Spain, Switzerland, Czech and Slovak Republics and Bulgaria. Her festival appearances include The International Festival-Institute at Round Top (USA), Ojai Music Festival (USA), Mainly Mozart Festival (USA), Manchester Music Festival (USA), Spoleto Music Festival (Italy), Colorado Springs Music Festival (USA), Plovdiv and Varna International Music Festivals (Bulgaria). Ms. Baltaian's recording experience is marked by the 1993 recording of the Aram Khachaturyan Violin Concerto, released on compact disc in Holland.
Born in Plovdiv, Bulgaria, Aroussiak Baltaian began to play the violin at the age of five with her father Garo Baltaian, with whom she completed her education at the "Dobrin Petkov" Music School in Plovdiv. She received the Bachelor of Music Degree as an Outstanding Graduate from the University of Central Arkansas where she studied with Kevork Mardirossian.
Upon receiving a grant from The British Council, she continued studies at the Guildhall School for Music and Drama in London, England under the direction of Professor Yfrah Neaman where she was awarded the Concert Recital Diploma (Premier Prix). Ms. Baltaian received a Masters of Music Degree from the University of Southern California where she worked under the direction of Martin Chalifour.

Ms. Baltaian currently serves on the faculty of the Music Department at the Master's College. She is also a member of the Pasadena Symphony Orchestra and performs regularly with the Los Angeles Philharmonic.